April 2nd, 2014 <!– by admin –>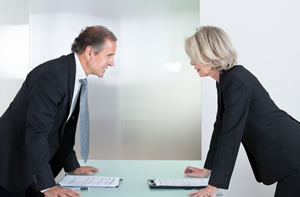 It's fair to say, as Managers, we don't always get the behaviours we want from people and it's possible to start to view these individuals in a very negative light even extending to anger. The problem is, this reaction simply does nothing more that perpetuate the problem – 'Why should I try any harder – my manager hates me!' Clearly something must be done as doing nothing could be seen as rewarding bad behaviour! But where to start?
Firstly, you have to acknowledge that something is wrong and needs to change but in the words of the great Dale Carnegie you need to 'allow the other person to save face'. However tempting the public 'put down' might be (especially if the behaviour is obvious or done to provoke a reaction) to openly discipline is never the way forward. You have to protect and respect the individual even if it's not reciprocated. Plan a meeting (attendance non-negotiable) and keep it private.
So, now you're in the room and they've probably got an idea where they're there. The arms may be folded and eye contact non-existent. What now? The easiest and kindest way to start the conversation is to assume that the other person is unaware of their behaviour. Pay them the compliment of believing they do not know the negative effect they've been having otherwise they would have done something about it. 'I don't know if you're aware but your comments are often very negative and I wanted to talk this through with you and get to the root of any issues. Your support is important'.
Taking this route allows the conversation to move forward and lets the individual know they are important. It acts as a form of disarmament not least because they were probably expecting to be blasted! It also answers two important questions: 'what is this about?' (negative comments) and 'why does it matter?' (because support is important). This approach gets the conversation going without a challenge or stand-off.
What generally ensues is a conversation around the what and why. It helps to have specific evidence or examples of what you are referring to especially if you think you're going to be met with resistance or denial. Keep emotion out of the conversation – however personal it might feel – and focus on the problem and its origins.
Keep your feedback constructive and clear and ask them what can be done to remedy the situation. This helps them feel in control and you are more likely to get motivation to change if they come up with the solution themselves. If you have to insist on a specific course of action, explain the reasons for this and ask what is needed (if anything) to help with this. Resist the urge to get drawn into a debate about whether change is needed or not – it's not a negotiation. Instead focus on what can be done to accommodate or support the change and talk inclusively – how can we make this happen?
Allow time for the agreed change to happen and follow-up with recognition and praise. If you fail to see what is required, reinforce the message immediately otherwise you negate the entire process by allowing what you have clearly made unacceptable.
Posted in